Girls soccer team challenged by rain
Due to the rainy weather, the Fullerton School District required all soccer programs to reschedule their games.
¨It has caused much chaos between games and all schools because we have to cram make up games before the cut off date for CIF, Feb. 9,¨ senior Bryanna Avina said. The soccer program has to play up to three to four games a week. All the team's home games are held at the Fullerton Junior College's turf facility. Fortunately, the city allows the Indians to play at Lions Field, which is an all turf field.
¨We have to share with Troy making it more chaotic having both soccer programs practice together with little space,¨ sophomore Victoria Avina said.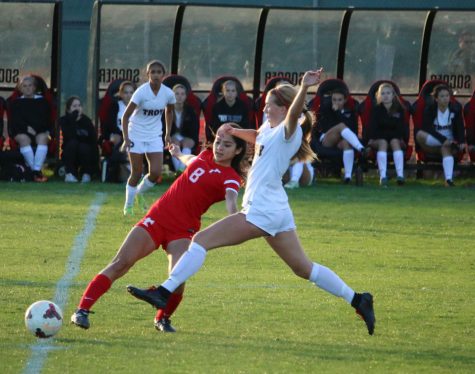 The team's season began January 17 against Troy High School, and the lady Indians strive to win league and finish CIF within the top three. Junior Amanda Cowan-Penagar said the team prepares by a lot of conditioning and self reflection. "We watch film to help us with field strategy," Cowan-Penagar said.
Sophomore Emily Monson said she finds motivation in the seniors."Our program hasn't gone to CIF for a long time." Monson said. She hopes their work pays off. "I think that's one of our biggest goals." Unfortunately the yearly, ¨Senior night" has been canceled due to the weather.
The lady Indians are home facing the La Habra Highlanders (8-11-2) today at 2 p.m. The team has to win this game in order to play in CIF. Bryanna Avina recalls tieing the Highlanders (0-0) the last time they played each other. ¨I think that will give us a lot of motivation,"Avina said. Sophomore Julia Nguyen said she thinks it is going to be a  good game "we have a really good backline and defense," Nguyen says.
The girls soccer team has pushed through the complications caused by the rain this year, and have  found ways to succeed even in challenging situations.
"What I learned [from this season] is to not give up and never fear your opponent," Bryanna Avina said.