A behind the scenes look at 'Kiss Me, Kate'
For every musical, there is a team that stands on the sidelines, making sure the production flows as smooth as possible. Only through them and their hard work can any show be successful. Featured below are a few of the people who made FUHS Theater's production of "Kiss Me, Kate" a hit.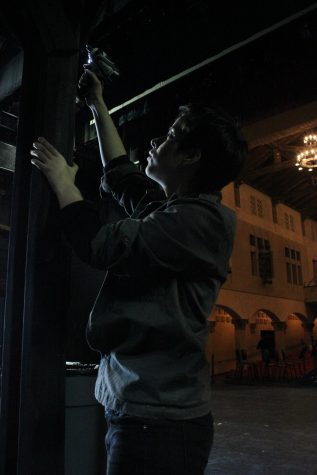 Joefferry Wenderlich (junior), Set Designer
The technical aspect of theatre has been a big role in Wenderlich's life. Freshman year, he was involved in set crew, then moved on to Special Effects Designer and Assistant Set Designer the next year.
"I didn't do a lot of designing, I was learning how things worked," Wenderlich said. "It's been a difficult process because I've had to learn a lot. Not only do I have to design things, but I have to lead a crew of people."
Wenderlich is responsible for creating a set that fits the show perfectly, which can be a long process.
"An important part of set design is reading the script and stage directions. It often specifies what type of set pieces there are and where the actors are going to be," Wenderlich said.
Wenderlich researches time period and location, then decides if the set will be literal or more abstract. He used maps of Plummer Auditorium to measure and sketch the set. Soon, the building process begins.
"Once you know what you want to have in certain scenes, you start deciding what length or how tall they're going to be. When you write that, you get the materials," Wenderlich said.
"The joy of getting to see something you drew be built, is really cool. There's this sort of magic on opening night when you realize what you've been doing for the past nine weeks has amounted to something so rewarding."
Phoebe Rodriguez (senior), Assistant Costume Designer
Rodriguez collaborates with adult Costume Designer Beverly Shirk. Together, they make creative costume choices, alter and design them, and assist actors with quick changes. Being involved in the costume department is a huge creative process and collaboration.
"[We] wanted everything to be very vibrant and saturated, like in the 30s when they were first getting color film. We wanted it all very bright, because it's such a comedic, exaggerated show," Rodriguez said about the concept of the costumes.
"We tend to pull a lot of things from our costume storage but we had to build some Renaissance pants for [the show]," said Rodriguez. "Basically whatever little thing we could do to make it more colorful we did it, like adding a bright ribbon to a corset."
Because "Kiss Me, Kate" is a mix of two time periods, decisions were difficult.
"The girls' Renaissance costumes have big skirts, with hoops. Figuring out how to stay true to the time period and still have them be able to dance, was one of the challenges," Rodriguez said.
Rodriguez finds passion in costumes because of the mood it  brings to  the show.
"Costuming is this really interesting form of storytelling because it's completely visual," Rodriguez said. "When an actor tries on their costume for the first time, they're really able to get into their character. Being able to help them reach that deeper level of their character is my favorite part."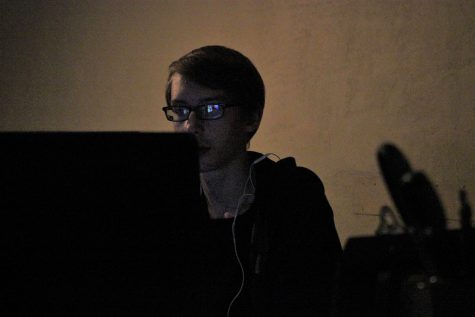 Brian Lines (freshman), Light Designer
One necessary aspect to any production is the lighting. Specifically for this show, Lines creates and designs the lighting to fit the story.
Lines reads the script and decides which special lights to use for specific scenes.
"I then assign moods for each scene and setting. Does it need to be romantic or bright or dark out? I'll write that in and program the different lights I want to use in the light board," Lines said. "You have to understand different moods and how to convey theme in the show."
Being in charge of lighting places a lot of responsibility on Lines's shoulders.
"It is important for me to take into account what the other designers want, and communicate what we're planning to do," Lines said. "If makeup decides to do something drastic and my lights don't look good on it, I'll be blamed."
Despite the challenges that may occur, there is value in overcoming it.
"My favorite part is being able to sit in the booth, watch the actors have fun onstage, and laugh," Lines said.  "I think lights are one of the most important things in the show. It affects the mood, the audience. I feel like I was a very important part."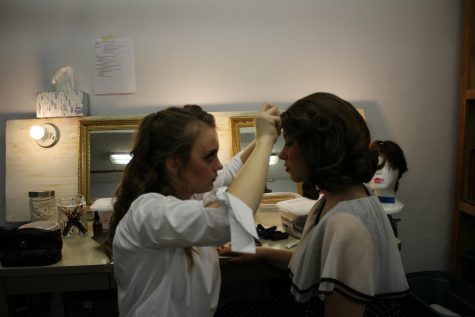 Elizabeth Gimple (junior), Hair Designer
Unique to the others, Gimple is involved both back and onstage. She created the hair pieces and styles for "Kiss Me, Kate", as well as "Peter and the Starcatcher" and "Women of Lockerbie." Like the others, Gimple researches hairstyles relative to the time period and class the character is in.
"I create a hairstyle for each character based on who they are, their background, and time period," Gimple said. "For example, one of the characters is flirtatious and uses her body, so I gave her bouncy curls."
Because the show is "Taming of the Shrew" inside "Kiss Me, Kate," most of the named female characters in the show had two wigs designed by Gimple to easily switch out.
Every designer has to work through challenges, but Gimple's are obviously different.
"Some things need to be altered in a way that fits [Mr. Despar's] concept of the show," Gimple said. "I had to de-shine a wig because it was too shiny under the stage lights, so sprayed it with dry shampoo."
"Anyone can be a designer, but it's about where your interest lies. You don't have to be able to do all these crazy braids but you need to know how to work and alter things," Gimple said about her position.
The hair might seem insignificant to some, but even the smallest things can make a production successful.
"You can put on a show with no costumes, makeup, or hair. It's very possible. The actors should be able to be embody the character without that stuff, but it's harder to imagine without it," Gimple said. "The hair helps the audience distinguish the time period, but it also helps the actors with who they are as a character. It brings them into their world a little bit more."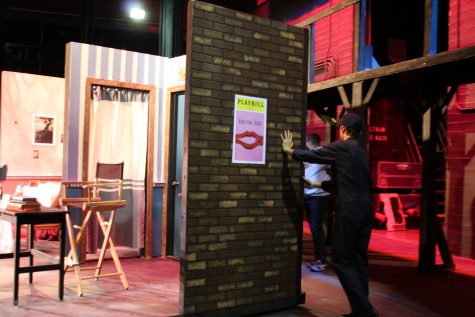 For a grandiose production like "Kiss Me, Kate" to be put on, every hand that helps is a hand that should be recognized, and the people backstage do not often receive as much credit as they deserve.
"When people think of theatre, they don't think of the people who are up there in the booth, or people who've made the props, or even people who do all sorts of tiny things," Wenderlich said.
"With tech, it's all about your mind, ideas, and your ability to carry them out," Rodriguez said. "Don't be afraid that your work is going to go unappreciated. We may not seem like we're important, but we're essential to theatre."