Fullerton High School remembers Brendon Vos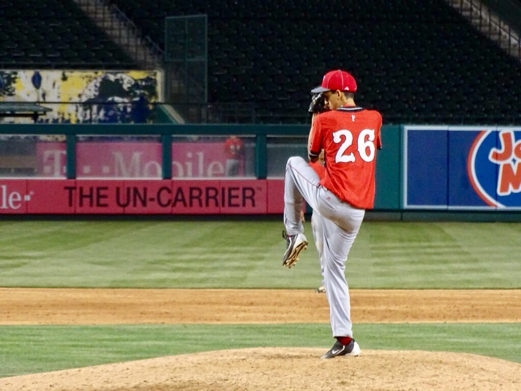 Last spring, Brendon Vos stood on the pitcher's mound at Angels' Stadium, preparing to pitch the game of his life. Teammates Justin Kim and Roberto Salazar ran over to have a talk with him, their nerves tingling with excitement as they anticipated playing their rival Troy High School. However, Brendon seemed calm.
"He looked like he belonged there," Kim said. "He was so confident." 
That game, Brendon threw one inning and had three strikeouts to close the game.
"He played amazing," teammate and fellow pitcher Ivan Serna said. "He was the deciding factor in whether or not we went to CIF or not that year. He really helped us."
The game ended with a 3-0 score and the Indians securing a spot in CIF.
Brendon Vos was a brother, son, friend, and teammate. He died on Feb. 8, 2017, losing his battle with Leukemia. Teammates were called to the office in the morning and were told the news. Senior Mitchell Alvarez found out ahead of time.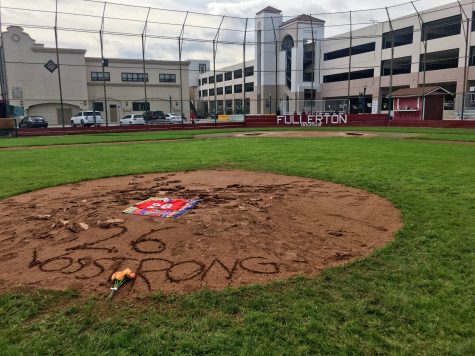 "My dad called me in the morning," Alvarez said. "It was honestly kind of a shock at first, I kind of didn't believe it. And then we were all in the office bawling our eyes out."
The team then proceeded to the Fullerton baseball field to reflect on the loss of their dear friend and remember him.
Brendon was diagnosed last May, and a few months later received news that he was cleared of Leukemia. However he fell ill again late November.  
"It was really tough for him, you could tell," Alvarez said. "But even then he always had a smile on his face and a positive attitude."
"He just needed someone to be there with him and it cheered him up," senior Michael Walters said. Walters has known Vos since age four, when they met after a little league game.
Kim reminisced about his late friend and teammate's constant smile and positive attitude.
"He has this little grin on his face," Kim said. "You could just look at him and he just brightens up your day."
His smile was his most adored feature, one remembered by anyone who had the opportunity to meet him.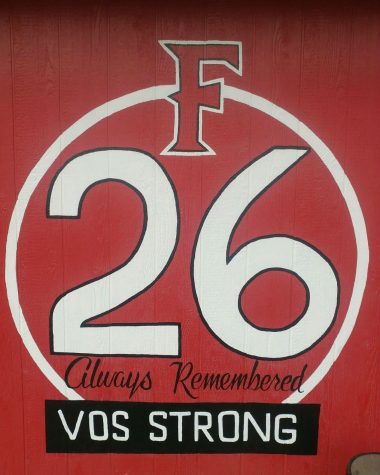 ¨Brendon was an unbelievable kid, he worked his tail off, he never complained about anything," Coach Tony Gonzalez said. ¨He did anything the coaches told him to do, and the kid just loved being out here."
Brendon, a senior, had always loved baseball. When he came to the Fullerton baseball field, his skills shocked coaches. When he first came to the program, Gonzalez expected him to be on varsity senior year. However when Gonzalez needed an extra pitcher during a scrimmage between the teams, Brendon was chosen. He faced off against three of the team's best hitters, and struck all three out in a row.
¨I invited him out to our Saturday games during the fall and he just kept doing what he was doing," Gonzalez said. "And he made varsity his junior year.¨
According to his coach, Brendon never missed a practice, never complained about conditioning, and always had a smile on his face.
"The day before he found out he had Leukemia, he threw a bullpen for us and he was throwing up," Gonzalez said. "I told him to go home and he told me no. Then he had to go run poles, and I told him to go home again but he said no again. He would run halfway, throw up, get to the end, throw up, and he just kept going until I finally went over there and I dragged him off the field."
His dedication to the team was always something the coaches admired. In fact, Coach Gonzalez has changed the Coach's Awardㅡan award given to hardworking players who represent the best of the teamㅡto be renamed the Vos Award. Gonzalez will ask the next coaches after him to also continue the tradition.
Brendon was the type of person to always be in a good mood, and was always kind to others.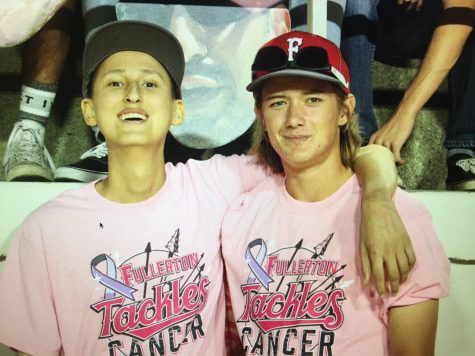 "As a person, he's just a really great guy," senior David Duff said of his good friend, whom he's known since they were four years old. "He was always smiling, always laughing, always having a good time with his friends. He never complained about anything."
Even his "trash talking"一something common in the game of baseballㅡwas unique and always made the team laugh.
"He didn't even try, but he would say things that just made you feel terrible," Serna said. "If he said 'you suck', you would genuinely feel like you suck."
One of his most striking features was his so-called "Brendon smirk" that would cover his face when he made a joke or trash talked. Teammates always remember that smile and how it could brighten up their day.
Brendon's positive attitude and genuine, happy personality shines through some of his favorite hobbies.
"He knew the words to, like, every classic rock song," Walters said.
Senior Tim Rath remembers a time when he discovered that Vos drove his father's 18-wheeler trucks. "I found out and I just laughed and said 'yeah, that sounds about right'."
Michael Coppens remembers going to Soak City with Brendon, as well as just hanging out together and having campfires. He also remembers Brendon's love for Star Wars.
"He had like a huge collection," Coppens said. Coppens met Brendon through baseball when they were four years old.
Duff said he and Vos bonded over their love for classic rock and Star Wars. "We collected the action figures."
On the team, everyone had a nickname related to Star Wars, and the team called Brendon "General Grievous," a very tall character from the series, according to Duff.
"Growing up together and being on teams together helped us form a really strong bond," Coppens said. "He was my best friend."
One of the team's fondest memories of Brendon is when they all decided to go matching to prom last year, and Brendon didn't know.
He showed up in the same white, black, and red tux anyways.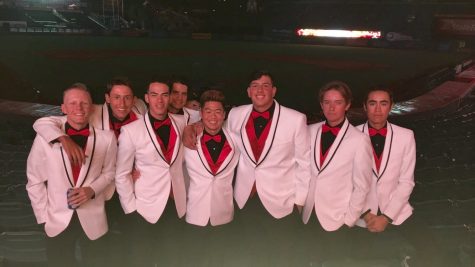 "He went to the tux shop and the guy asked him 'Are you matching with the baseball boys?' And he just said 'Yes,'" Rath said.
He matched with his teammates head-to-toeㅡalmost.
"Brendon was the only one not wearing the white chucks because he didn't know," Rath said.
"He wore some black shoes," Alvarez said. "That was pretty funny."
No matter what the situation was, Brendon was confident in himself and didn't care what people thought.
"He always found the good in everything," Coppens said.
"He was truly great," Walters said. "The best person I know."
The service was held at Loma Vista Memorial Park on Tuesday, Feb. 14. The 11 a.m. viewing drew in family members, friends, teammates, and classmates. Everyone was welcome to enter the building and pay their respects to Brendon and say goodbye to him, clad in his baseball jersey and hat, per his request.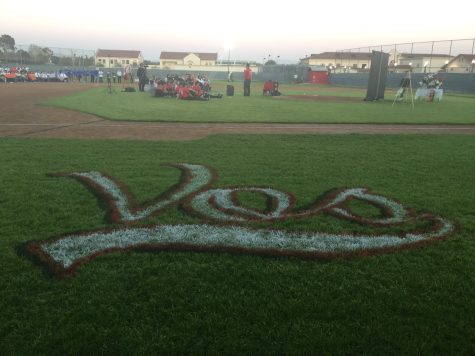 After the viewing, Brendon's casket was brought out by Walters, Rath, Coppens, as well as friends Jesse Miskulin, Mickey Resendiz, and Andres Anaya, so that everyone could say their final goodbyes. During this time the family recited poems they dedicated to Brendon, as well as a poem Brendon wrote to his parents and sister, followed by a release of doves to the song "Calling All Angels" by Train.
At least 200 people attended the reception at the Fullerton Baseball field to celebrate Brendon's life. He touched the hearts of many with his positive attitude, dedication, and strength.  
"From Brendon we've learned kindness and to never take anything for granted," Alvarez said. "But most importantly to live like Brendon Vos."
FUHS Boys baseball team honored Brendon Vos in their game against Troy High School on Mar. 22 at Angel's Stadium. Most of the crowd wore orange in support of their teammate and those battling Leukemia.