Fullerton Baseball starts League off strong
After a solid 4-0 start in the Freeway League, The Fullerton Indians are hopeful to succeed in the second half of season. After the Indians have played each team in the Freeway League once, they will start a schedule in which they face each opponent twice in a week.
Senior Mitchell Alvarez said he enjoys playing one opposing team twice in the same week. "Within that week you get to see two of their pitchers and all of their players basically."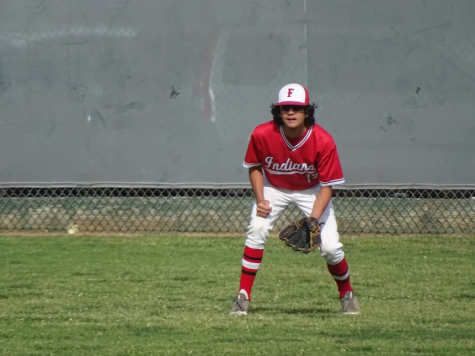 The Indians defeated Sunny Hills 11-0 yesterday at home.
Alvarez said he felt confident to play the Lancers (1-3) again, recalling their win against them. "They are a good team and all the teams in our league are, it's pretty competitive when we can beat them or they can beat us."
Junior Seth Nelson echoes this opinion on beating Sunny Hills again, "We got a lot of data on them, a lot of spray charts, a lot of stuff like that so we will know what to expect.  I think we can come out on top again." Nelson said.
The team dedicated their whole season to playing for Brendon Vos and winning for him in pursuit of their goal of a league championship.  
Nelson said the second half of league is crucial to be on top of their game, especially when their opponents aren't.  "The second half of league is just capitalizing on the other team's mistakes" said Nelson.  The Indian's new strategy against the Lancers consists of adjusting to the new pitcher, defense, and any new players on the field. "We just have to make adjustments," said Nelson.