The iPhone X and 8: "extra" and ridiculous, or a step in the right direction?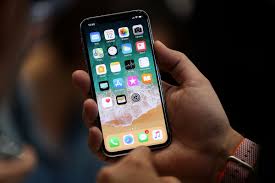 Hang on for a minute...we're trying to find some more stories you might like.
On Sep. 12, Apple announced their newest iPhones: the iPhone X and iPhone 8 and 8 Plus.
Both phones are to have a universal wireless charging system called Qi, which is currently available in Starbucks and IKEA. The iPhone X will have an all new glass design, where the entire front of the phone is boundless screen, and the back is glass. This new design, for better or worse, eliminates the home button, which may be a small price to pay to gain a dust and water-resistant phone.
The loss of the home button also means the elimination of finger scanning to unlock; in its place, a face identification software that creates a map of your face will use the information to unlock the phone.
At FUHS, opinions seemed to be mixed as to whether or not the iPhone X is truly a step in the right direction for Apple.
Junior Destiny Saucedo doesn't really see the point in a lot of the phone's new features.
"I think not having a home button is dumb. I do think that having glass on both sides will be a bit of a problem, because mostly teenagers and young adults will be buying the phones and we don't keep our stuff very safe, so we'll probably break it," Saucedo said. "And, I think that the face ID is not a good idea. There's really no advantages to it, right now all you have to do is put your thumb on the home button; with face ID, what if you take your makeup off and Apple's like 'who's this,' and you can't get into your phone."
Sophomore Connor Sessions shares Saucedo's sentiment, finding the new iPhone to be lacking in true advancement. "A little too expensive, with not a lot of change. No one should pay $1000 for an iPhone, and there's not very many new improvements; it's mostly just software updates—nothing special," Sessions said.
Overall, he's incredibly underwhelmed in the phone's new features. "I don't really care that much for [the face ID software]. It already works with your thumb print; why do you need to use your face for it?" Sessions said. "And the home button, to me, is like the whole point of the iPhone. None of the Androids or anything like that have them, and it's really just easier with the home button."
Junior Madeleine Brickey, however, is intrigued by Apple's newest ideas. "I think [the new phone is] really interesting, but I'll miss the home button and I totally expect to drop it and crack it. But the face ID is really fascinating to me. It's a cool concept," Brickey said. "Wireless charging is also really handy to have. You don't have to be sitting by a wall while it charges, so that's a really big plus for the new phone."
Senior Phu Huynh has mixed feelings; he is excited for some of the phone's promises, but not for all.
"The face recognition is really advanced in my opinion. That's what I really like about it. I think it will be a lot harder to use in class, but it will give the phone a bit more security. But, I don't like the wireless charging that much, because what happens if I want to use it and charge it places where there isn't the specified station? I don't want to be held back," Huynh said. "My phone dies a lot, so with wireless charging it will be difficult to use my phone. I do like it without the home button though. I think it will look better. With it being the whole screen now we'll have more space."
Despite all opinions, however, the main issue with those interviewed is the phone's price. At $1000, it's a bit more than what Apple typically asks for.
"I'm not buying the new iPhone because I don't have $1000 lying around my house. If it was $5, then I would buy it, unless someone wants to get me one I'd be fine with it," Saucedo said.
However, the price does little to hinder students in their belief that Apple should keep doing what they're doing: advancing technology. "I think Apple should keep adding stuff, but not pointless stuff, or stuff that really does not advance us in a positive way," Saucedo said. "Like the wireless charger is a really good idea, and camera quality is great. But random stuff, like face ID, really doesn't do much for me."
Brickey agrees with Saucedo, favoring her current edition but looking forward to the future. "I'm more on the side of them staying with old features, but it's nice to see new tech, so I'm sure it's all for the better," Brickey said.
All three iPhones are set to release Nov. 3, and pre-order opens Oct. 27.