The significance of senior activities
As underclassmen, we look up to the senior class; they're the people that have been here the longest, have earned their place in this school, and they know this school better than all of us.
Most of them have invested four years of hard work into this school and have been looking forward to the day that they have their own senior activities.
Senior Night is an event that many programs do to show appreciation for their seniors. Senior Hannah Cashin played water polo since her freshman year and celebrated her Senior Night Feb. 8.
"We all got posters made by ASB that had our names and numbers on them, and the team moms also put together flowers for us and a frame with pictures of us and our team," Cashin said.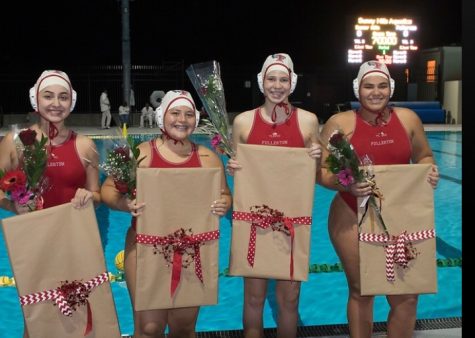 Like most, Cashin anticipated her own Senior Night to be full of excitement and fun.
"Senior Night was definitely something I looked forward to this year, especially because I have been seeing it for the past three years waiting for it to be my turn," Cashin said. "It feels good to be able to have recognition for the past four years and to be able to have a solid ending."
To Cashin, Senior Night should also be important to underclassmen.
"It's important to show appreciation for the seniors by doing things like Senior Night, because even when I was an underclassman I would look forward to seeing all of the seniors line up as a farewell to them," Cashin said.
A second event, Senior Takeover, is an opportunity for seniors to "take over" classes as teachers. For this year's takeover, senior Alexandra Pace filled in for Assistant Principal Tina Wilde.
"It was a very busy day. I helped [Mrs. Wilde] research new calculators to buy for our students, pick out a new tile for the theatre/arts building under construction, and she even bought me Chinese takeout. One thing that I really enjoyed was being able to have a walkie talkie for a day," Pace said.
Like Cashin, Pace believes that these events are important to show appreciation for seniors.
"Being able to take a break from our busy workload and contribute to the school in our own, unique way through teaching is definitely a nice reward that the seniors of FUHS deserve," Pace said.
"I definitely think that senior events are necessary throughout the school year because they maintain seniors' interest in school-related events, therefore hopefully diminishing the dreaded effects of 'senioritis,'" Pace said.
Seeing their older peers complete their programs or teach their classes gives underclassmen something to look forward to. But more importantly, Senior Takeover and Senior Night are a time for seniors to reflect on how valuable their time at FUHS has been.