Natalie Hertogh wins gold at Pan-American Karate championship
Junior Natalie Hertogh won gold for Team USA at the Pan-American Karate championships in Rio De Janeiro, Brazil on August 22nd-25th in her event (team form). Hertogh beat Canada in the last round to become the top competitor in her age division.
Traveling to compete, for Hertogh, was more than just a competition.
"It's really cool to meet all these people from around the world and see there's people that don't live in the US. They live in other countries, living their lives the same way we do. It's cool to realize there's so many more people than just in California," Hertogh said.
Hertogh gained her spot on the USA Team for the Pan-American Championships by competing in The Elite Division tournament.
Hertogh explains her road to the Pan-American Championships. Hertogh and her teammates had a bye (an automatic win), which helped them go into the finals.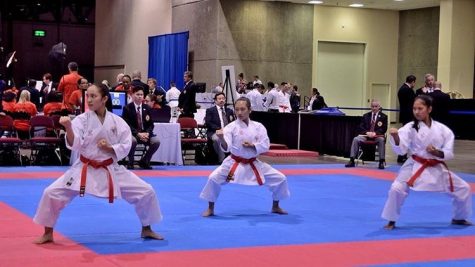 Hertogh explains her team dynamic.
"We all go to the same dojo, and we're all friends, and we're all the same age, and we're all already experienced with team, so we just thought it would be a good fit for us so we just decided, 'hey, we should do team together,'" Hertogh said.
Even after the tournament, Hertogh looks to improve and hopes that in the future she will be able to make the individual team.
"I need a lot more training. I should probably start training now if I want to make it. Because my other two teammates, they're also in the same division as me, so they would be my competition in individual. And they're pretty good, so that would be difficult, but I could– I think I could achieve it."