New additions to FUHS math and science department
Emily Albaugh
Coming straight from her Master's program at UC Davis, Ms. Albaugh is one of the new additions to our math department, and currently teaches Geometry and Algebra 1 Foundations. Ms. Albaugh is excited about beginning her teaching career at Fullerton High School.
"The campus is great, the kids are great, colleagues are awesome. It's been a great start to kickoff my career," Albaugh said.
Though it's been a short time, Albaugh has wanted to teach for a while.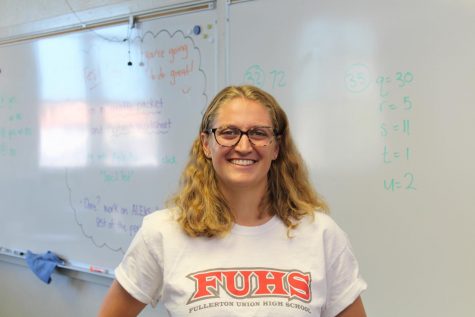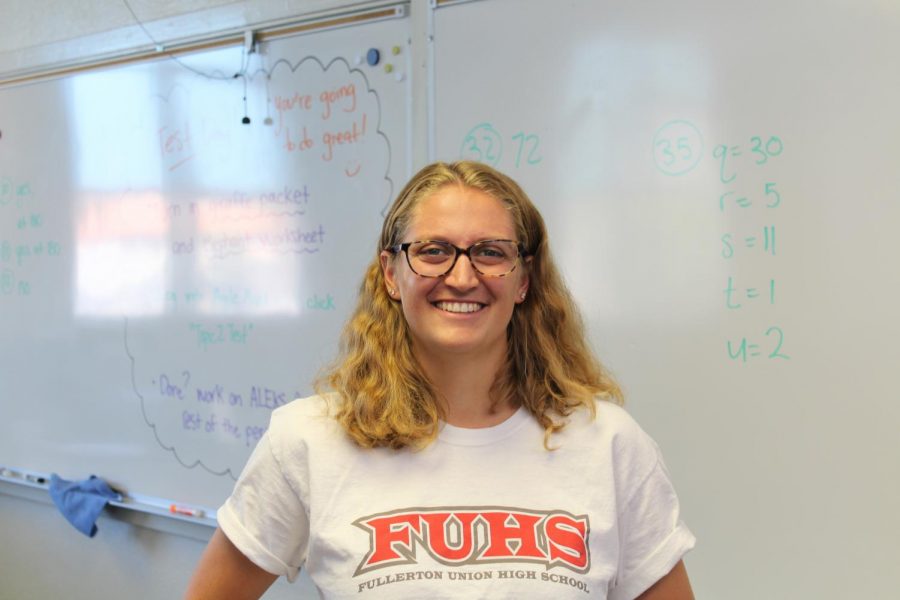 "I knew I wanted to because I first and foremost love math. But, I also enjoy kids and being part of the development of a process and working through difficult things," Albaugh said. "To be part of student lives in that way and supporting them might get a few more math nerds out there."
For her, math was always a passion. Albaugh's love for math grew while she was in college.
"The first two years of college I took a lot of random classes, but I kept doing math, and I kept doing math, and I kept doing math. I found myself doing multi-variable Calculus homework to avoid doing other homework. That was when I decided to be a math major," Albaugh said. "Math has a lot of beauty. The challenge of it, the logic behind it, being able to put pieces together like a puzzle. Once you can see the whole picture, that's when the whole beauty comes through."
However, she didn't always know she wanted to teach. Albaugh found her passion for for teaching math later on in her education.
"The idea of being in a classroom and being able to share that joy of math with students in such a diverse career that changes everyday was really interesting," Ms. Albaugh said
But for her students, Ms. Albaugh wants to teach them more than a textbook could.
"I want them to embrace that sometimes challenges make things worthwhile. To take the lesson that hard work pays off and it leads to success."
Joshua Siemens
One of the FUHS math department's newest additions this year Mr. Joshua Siemens, teaches Algebra 1, Math and Math Essentials while also coaching basketball's sophomore team. This will be his second year of teaching.
Last year, Siemens taught high schoolers in the rural town of Sanger.
"Sanger is a farm town," Siemens said. "There's a lot of kids who are up at 5 AM to go work in the fields with their parents, then they come to school, and after that they go back home to work in the fields while their parents are working two jobs just to make ends meet."
Siemens' experience in Sanger changed his outlook on teaching. There, Siemens began helping students during breaks and after school.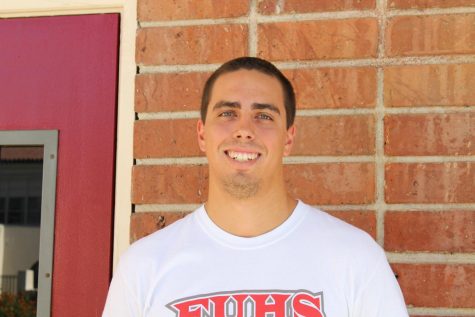 "I felt I needed to do as much as I could for these kids because a lot of students, when they got home, their parents just weren't there to help them or didn't know enough math to help them," Siemens said. "I might have been the only chance they had to get any extra help."
Here, Siemens teaches mostly freshmen. He often gives advice to his students about how to prepare for the future.
"I try to teach my students that it's the beginning of their high school experience, but things that you do now are setting you up for junior and senior year and even for college," Siemens said. "Start good habits now in preparation for the future."
Kelsey Stehle
Last year, Ms. Stehle was a student teacher at FUHS. This year she is an official addition to the FUHS Science department as a biology teacher.
"I loved student teaching here, and I am so happy that I have gotten to stay," Stehle said.
Stehle majored in biology at Cal Poly San Luis Obispo, and always wanted to help in the world of education.
"I want to make sure that our students are scientifically literate and can go out into the world and make good decisions, so I wanted to help in that process," Stehle said.
Stehle is just beginning her positive impact on students, but it will be exciting to see how she continues to do so.