FUHS girls' tennis prepares for the start of the season
As all athletes prepare for the fall season, girls' tennis is looking ahead with optimism. Junior Lana El Djoundi and Senior Anna Coleman are looking forward to a great season.
"As the captain this season, I want to encourage the freshman and anyone who hasn't played before to keep going even if they feel like they're failing," Coleman said.
Last year the varsity team was mostly made up of seniors, so there are many new players on varsity.
The athletes are working to build team spirit and develop a closer bond.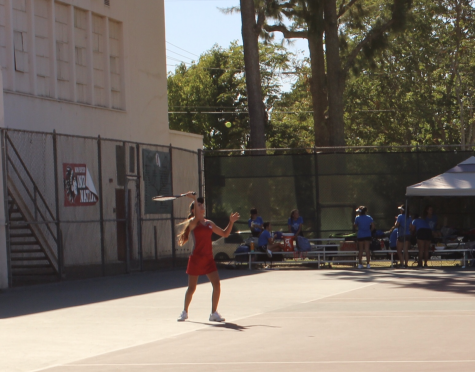 "Our goal is really to have better communication and just to work together and build each other's confidence," El Djoundi said.
The athletes are preparing for the fast-approaching start of season. They have been busy with preseason matches and long practices in order to get ready for the harder teams that they're scheduled to play.
"We've been doing pretty well," El Djoundi said. "We've been playing harder schools for the purpose of getting ready for season. In tennis, practicing and playing people who are better than you helps you to learn and get better."
Although they are practicing hard so they can win as much as possible, winning is not their main goal.
"I think it's important to just go out and have fun," Coleman said. "We might not win all the time, but we want to improve, give it our all and win the matches that we can."