Joshua Miller: National Merit Scholar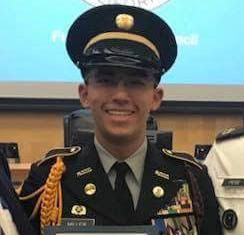 Senior Joshua Miller was recently named a National Merit Scholar for his achievements on the PSAT/NMSQT. National Merit Scholar is an honor given to the top 1 percent of students in the country, or qualifying students receiving a high score on the PSAT/NMSQT their junior year.
"Being a National Merit Scholar represents how I'm always focused on academics," Miller said. "It's a culmination of all the effort and work that I've put in throughout my school career. I'm proud of all the work I put in."
Miller scored in the 99th percentile on the PSAT/NMSQT making him eligible for the scholarship.
Miller also balances being the executive officer in JROTC, participating in several Speech and Debate events, taking college classes, and more.
"I have a lot," Miller said. "I'm kind of all over the place, all the time."
Congratulations to Joshua Miller for being named a new National Merit Scholar!