FUHS students and their jobs
For teenagers, having a job can be a big deal. It not only signifies that students are quickly approaching adulthood, but it allows students to learn to take on new responsibilities. Jobs teach students how to manage their time and find a balance between school, extracurriculars, and a job.
Today, it's completely normal to find students who are constantly swamped with schedules that offer no free time, which means that adding the responsibility of a job is a big deal. Jobs allow students to earn their own money, decide how to spend it, and learn many new lessons.
On campus, there are a great number of students who have jobs. They work at fast food places, bakeries, and even in Plummer Auditorium.
Senior Sebastian Armas started working at Little Caesars Pizza around two and a half months ago. In this short amount of time, Armas has already learned valuable lessons.
"It's helping me understand how adulthood will work and it's making me more responsible. It's helping me become dependable," Armas said.
Armas advises students to try to work at a job with a flexible schedule.
"It is much easier to get a job that will work with you so that you can get the hours you want and be able to get the days that work best for you," Armas said.
Armas hopes to continue working through his senior year.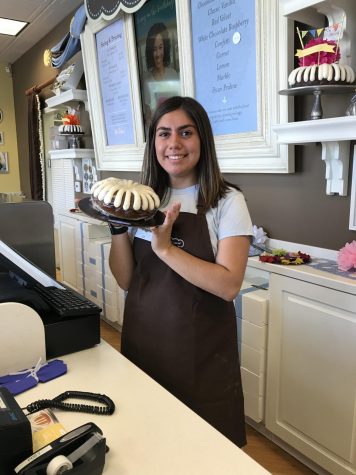 Senior Joy Hernandez started working at Nothing Bundt Cakes in Brea about a year and a half ago. During her experience working there, she has been promoted to head of crafting.
"I decorate all the cakes and answer all cake decoration questions," Hernandez said
She enjoys her job, despite the occasional stress.
"I enjoy being able to go to work and talk to my coworkers. It gets challenging to find time to do homework and work at times," Hernandez said. "If you want a job you have to be able to really manage your time well."
Hernandez has learned many valuable skills that she finds useful.
"I have learned to step out of my comfort zone and have conversations with new people," Hernandez said. "I've also learned to talk to others and work with others which isn't always the easiest thing to do."
Senior Tate Heinle has worked at the Plummer Auditorium as an usher and stagehand for over a year.
"An usher assures the audience is well taken care of as well as making sure they have proper audience etiquette. A stagehand is more on the technical side, so they deal with anything regarding how a show runs," Heinle said.
Despite the hard work it requires, Heinle deeply enjoys his job.
"It's a very physically-demanding job and can be very strenuous, but it's super fun," Heinle said. "It gives me something to look forward because I get a chance to distress by focusing my mind on something other than the stress of school."
Heinle admits jobs can be stressful, but he's learned a lot from it.
"I enjoy the learning experience of it. My most memorable experience at Plummer was the first I'd ever got schedule to be a spotlight operator for a ballet company doing the Nutcracker. I was super on it and everyone was impressed," Heinle said.
For any students interested in jobs, Heinle offers one piece of advice to keep in my mind.
"You can always quit a job, but you can't quit school," Heinle said.
Junior Madelyn Lorenzo started working at the age of fifteen and a half during her sophomore year at Identity Boardshop.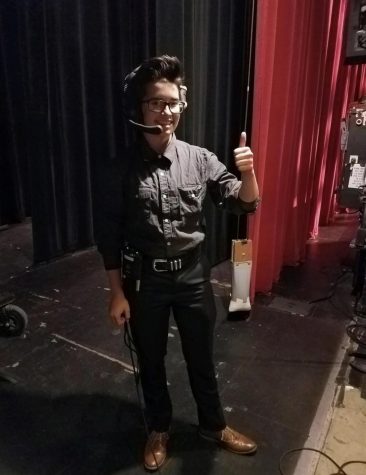 "It's pretty crazy. I was surprised they hired me," Lorenzo said.
Lorenzo works at the retail skate shop three days a week.
"I only work like three days a week. On school days, I'll usually do four hour shifts, but on the weekends I usually work six to eight hours a day," Lorenzo said.
All of Lorenzo's
co-workers are older than her which Lorenzo thinks is a cool aspect of the job.
"Everyone there is 25 to 30 and I'm one of the youngest ones. I feel like I have a better sense of how to talk to people who are older than me. It's nice to know how to communicate with people older than me and it's cool to see another generation," Lorenzo said.
Apart from gaining skills like folding, Lorenzo has learned how to build skateboards from her job.
"I know how to build skateboards because that's what we do in the shop," Lorenzo said.
She recommends any students looking for a job to look for something that interests them.
"Just utilize your skill set as much as you can. If you're good at making food, then get a job that involves food. Just do something that peaks your interest," Lorenzo said.
These students are only a few of the many students on campus who have jobs and have learned to balance school, extracurriculars, and their job. Students can find all type of jobs that are bound to teach them valuable skills and provide them with great memories.