Girls basketball triumphs in first League win
The Lady Indians (5-15) were victorious in their first league win against La Habra on Fri. Jan. 18. The girls pulled through with a 44-42 victory over the Highlanders (4-20).
For junior Amiyah Williams, this first league win means a lot.
"I feel like we did a lot of things right in Friday's game such as looking for open players, making most of our free throws, having confidence in our shots, passing the ball when there was pressure and not having that many turnovers," Williams said.
However Friday night was not as successful for senior Hallie Coleman, who suffered a season-ending injury of a fractured right pinky.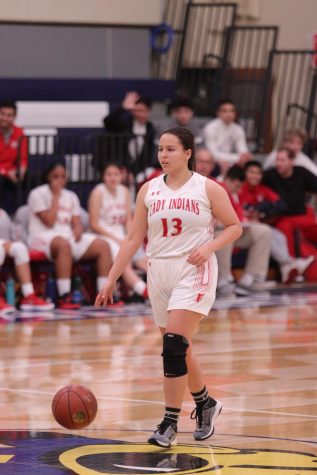 "I was diving for the ball. I fell on top of the ball and somehow my right pinky finger got caught in the mess," Coleman said. "Originally I thought I dislocated it, but it turns out I fractured it."
Senior Gracelynn Basas states the team is shocked and sad about Coleman's injury.
"Hallie brought confidence on the court and played amazing defense for us," Basas said. "As a team, we're just going to have to come together to fill that role as best we can for our last couple games."
Basas feels hopeful for the rest of season.
"With the few games we have left, if we play like we did against La Habra then any game should be a good game," Basas said.
Come out tonight to see the Lady Indians take on the Sonora Raiders (16-5) away at 6 p.m.