Boys Soccer takes league and heads to CIF
Fullerton's boys varsity soccer took the title of 2019 Freeway League Champs, after winning a game against Sunny Hills 2-1 on Jan. 25.
The last time the Indians were League Champs was in 2014, marking this as a big accomplishment for the team.
Junior Yahir Garcia reflects on bringing home a league title.
"Being league champs is a great accomplishment for this team," Garcia said. "It was one of the goals we set for ourselves in the beginning of the season."
"To achieve the title as a team and make it to CIF really means a lot to everyone in this program and we are really proud of how far we have come."
With an overall record of 18-2-2, the team looks forward from League to CIF.
Senior Devin Paul feels the team has worked hard continuously this season and is ready for CIF.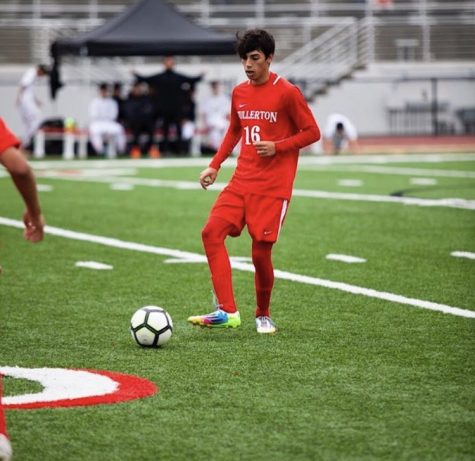 "Being a senior, I feel that this season was a huge success for our program. Year after year we were always second best and I feel we have really proved who we are as a team," Paul said. "We have worked our way up to the top and it helps us have the will to go out their and work harder than everyone else."
Troy, Sunny Hills, La Habra and the Fullerton Indians qualified for CIF this year.
Junior Jorge Rodriguez reflects on how far the team has come.
"Once we won a couple of preseason games and went undefeated for so long we realized the strength and potential that our team has," Rodriguez said. "I truly believe that we could win any game we work hard enough for."
The boys first CIF game will be against Savannah High, a team they have played twice in preseason. With a personal record of 1-1 the first game was a 2-1 loss, and the second game a 3-0 win for the boys.
Junior Josh Espinosa explains the team mindset necessary for their upcoming game.
"We know what we have to do to beat them and we intend to do just that," Espinosa said. "I have no doubt that we can do it as long as we work hard and use everything we know about how they play against them."
Senior Jesse Gonzalez couldn't have asked for a better end to his senior year.
"We played better than we've ever played and we worked together as a team," Gonzalez said. "We made it to CIF not only because of our talent but because on and off of the field we are brothers."
Overall, the team believes their team is a brotherhood, as they have stood together and succeeded all season.
Senior Alex Benavidez feels the team is confident for CIF.
"We just have to go out there and play like this is the last time, we have to push each  other to be the best on the field," Benavidez said.
Come out tonight to support the boys in their first CIF game versus Savannah High at 3 p.m. in our stadium!