Sports Briefs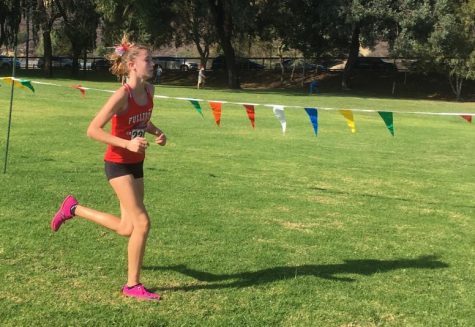 Cross Country
Representing the girls varsity cross country team, sophomore Morgan McAndrew will be heading into CIF Prelims on Nov. 13 at Mount San Antonio College. McAndrew was the only FUHS runner to qualify for CIF at League finals on Nov. 3 at Craig Regional Park. The boys placed 5th in the League finals, but did not qualify for CIF.
Both cross country teams competed in the O.C. Championships at Oak Canyon Park on Oct. 15. McAndrew placed 11th in the small schools varsity race with a time of 19:38. McAndrew was also the 18th fastest sophomore overall across all races.
The boys team placed 7th in the small school varsity race. Matthew Abernathy was the 45th fastest senior, Nathan Limon was the 21st fastest junior, and Alejandro Hernandez was the 37th fastest sophomore in Orange County.
Boys Water Polo
Scoring five goals, senior Garret Fan led the boys water polo team to a first round 12-9 CIF win against Glendale on Nov. 4. The Indians (17-7, 6-2) reached the quarterfinals but suffered a 12-10 loss against Portola.
The team qualified for CIF with its 17-6 win against Sonora on Oct. 26. However, the team fell short of a first place Freeway League finish with its 12-7 loss to Troy on Oct. 28. The team finished in second place in League.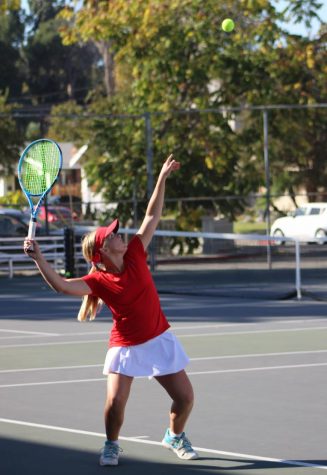 Tennis
The girls tennis team finished its league season in third place making it to the League finals. Freshman Abigail Kelly and her sister junior Lillian Kelly qualified for League finals. Fullerton had three doubles teams qualify. Doubles team seniors Kennedy Hetts and Eliza Lynch came in third place. Doubles team Alex Felz and Alyson Jeong and doubles partners Emily Ma and Abby Lynch also qualified. All teams broke through the first round, earning each of them a League finals qualification patch. 
On Nov. 2 the girls tennis team played against Millikan High School in Long Beach in the first CIF match as a wildcard team. They ultimately lost 10-8, but Lillian Kelly swept her three matches. Hetts and Eliza Lynch also swept all three matches.
Girls Golf
The girls golf team ended 2-8 in League while sending senior Taylor Frank and junior Julia Bustamante to league finals who didn't make it to the finals.
Despite the rough season, sophomore Amaya Moreno said, "Being on golf is more about hanging out and meeting new people than it is about winning."
Girls Volleyball
The girls volleyball team (14-12, 3-7) ended its season with a couple of tough losses, including a close 3-2 defeat to Troy on Oct. 11. 
The team fell short of qualifying for CIF, but senior Jimena Velasquez said she enjoyed the season. "Our senior night against Troy was our best game because we had a large student section and there was so much energy in the gym," Velasquez said. "It felt amazing and the game was equally intense."
Football
Fullerton's football team ended its season with a 21-20 overtime loss against Sunny Hills on Oct. 29. The Indians finished in fifth place in the Freeway League.
Sophomore Jacob Williams said, "Even though we lost, we gave Sunny a fight. They probably thought they'd run over us but we really gave it our all and it was unexpected for them."
Despite the rough year, senior center Levi Banuelos was offered a D3 football position at Carthage College.
"I was super happy," Banuelos said. "It's been a goal since I was a little kid to play college football."