Dancers excited to present in-person show
The Advanced Dance class and Dance Production will host their first in-person concert since the pandemic on Nov. 19 and Nov. 20 at 7 p.m. 
Because the Fullerton Auditorium is still undergoing renovations, the Fall Dance Concert will take place at La Habra High School. Most of the pieces are choreographed by students.
Advanced Dance class officer, senior Cherish Angus, choreographed a contemporary piece to the song "Cherry Wine" by Hozier. It features six dancers and is titled "Love Shouldn't Hurt." 
"My piece is about domestic violence," Angus said. "I really just wanted to put out a voice for that and my feelings about it."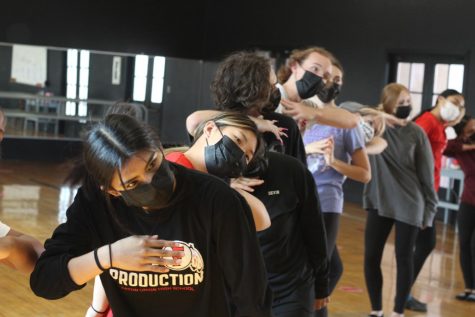 Junior Elise Ong wanted her jazz piece to serve as a welcome back for the audience and dancers. Ong's piece titled "Who's Bad?" is a mashup of Michael Jackson songs. 
"I hope the energy in my piece gets the audience excited that the dance program is back again," Ong said. "I chose to do Michael Jackson because his music seems to get everyone in a good mood." 
Ong also describes her experience as a choreographer: "From putting music together, choreographing the dance, making formations, and cleaning, it takes a lot of time and effort to create a strong piece." 
Ong's first year in Advanced Dance was all virtual.
"I cannot explain how much better it is to be in person with everyone," Ong said. "When we're all together in the studio we can get crazy but it's always so much fun! I love everyone on the team and it's such a safe and supportive environment. It never occurred to me just how much I missed last year over Zoom." 
Because the Fullerton Auditorium will be unavailable, dancers will have to make the 15 minute commute to La Habra High School for their tech rehearsals.
Advance Dance class officer, senior Scarlet Marenco, made sure her dance would have the same impact in the larger venue.
"Since I knew that we'd be performing on a bigger stage, I made sure to make large stage pictures," Marenco said. "I want my dance to be big so that even from the last row of the audience it makes a statement."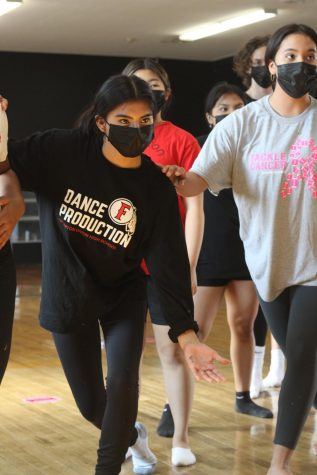 Marenco combined hip-hop and contemporary/modern dance to create her dark piece, titled "You'll Find A Way," using the Switch and Sinden remix of Santigold's "You'll Find A Way." 
"When I was choreographing, I was super inspired by the science of the mind and how the brain handles dealing with scary situations," Marenco said. "My piece goes through an exploration of delusions and the ups and downs that the brain goes through."
Dance Production captain, junior Devin Glass, choreographed a piece that's reflective of the adjustment from performing to a Zoom audience to an in person audience. The piece is called "You Better Run," using the song "Dog Days are Over" by Florence + the Machine.
"The dance is about perseverance and overcoming hard times with the help of others who love you and whom you love," Glass said. 
Glass realizes that transitioning from choreography for a camera to choreography for a live audience poses some differences. 
"Our last concert we filmed everything. We would use choreography that would be complemented by a camera," Glass said. "In contrast, now we are doing everything in person so you kind of have one shot to get everything since it's live."
Instructor and director Andrea Oberlander says student dancers have put a lot of work into preparing for the show.  
"It has been a big adjustment preparing for a live show versus a pre-recorded one, but everyone is excited to perform for a live audience," Oberlander said. "The show is filled with a variety of styles and has a little bit of something for everyone."  
The show features guest choreographers, as well as a guest Ballet Folklorico performance. Tickets are available for purchase at fuhs.booktix.com for $12.