Fullerton snags victory over Troy
Last Friday Fullerton Boys Basketball faced off against cross-town rival Troy High School for the final time this season.
The game started off slow for the Indians, down 7-0 in the opening minutes; with 3 minutes left to go in the second quarter Fullerton was down 26-10.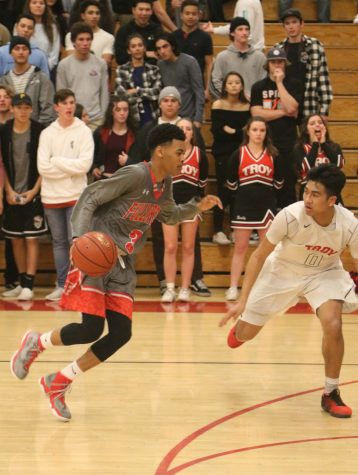 However, The Indians fought back and cut the deficit to only five points, with a score of 26-21 at halftime.
With three minutes left in the third quarter, Fullerton was down by eight points, 38-30, but fought back to make the score equal 40-40 by the end of the third quarter.
Going into the fourth quarter Fullerton was ahead, but a late push by Troy made the game close. Fullerton managed to pull away with a 57-53 win.
Sophomore Stone Sinek scored 24 points for the Indians. When asked what this meant for the future Sinek said, "This win means we can get more. We got one, so we can definitely build off this for the future."
Senior co-captain Travis Bush contributed 18 points in his last game against Troy.
"When the game ended I was just so happy and excited that we finally beat them," Bush said. "I played my whole entire high school career without beating them so this definitely felt good."
This was Fullerton's first league win this season and it came in good fashion as a defeat against their biggest rival.
Fullerton's last home game and senior night will be played today against La Habra.