FUHS's first annual Powder Buff tournament
For the first time in FUHS volleyball history, "Powder Buff" is blurring the lines of female only sports. Switching it up, Powder Buff has girls on the sidelines as coaches, and boys on the volleyball court.
In previous years, senior Alexandra Pace proposed "Peach Fuzz," which is a common name used for events like our own Powder Buff. Pace struggled in getting administration on board for approval; however, thanks to senior Jessica Fuentes, administration finally approved the Powder Buff event.
Pace looks forward to hosting this event to not only bring the Indian community together, but to support the Fullerton community as a whole. "It is a fun way to bind everyone together and to raise money," Pace said.
Powder Buff will be held as a food drive for the organization Pathways of Hope. Junior participant Adam Paniagua believes that ASB's idea of raising hunger awareness is great, especially around the holidays.
"I think what ASB is doing is really good," said Paniagua. "It makes us thankful for what we have around this time of year."
Because there were not enough junior boys who signed up for the event, ASB decided to host Powder Buff as a tournament rather than a single game. All junior and senior boys will be split into three teams and play elimination rounds throughout the tournament. There will be two teams filled with seniors and one team of junior boys; the teams will have two coaches from the varsity volleyball team to help out.
Junior Baylee Ray, coach of the team "7 Disciples," believes that her team has been doing well with learning the basics of volleyball.
"[The team is] good at passing but we need to get our hitting better situated," said Ray. "I expect them to give the other teams a good fight with a little more focus."
Junior Stone Sheridan is always excited for the practices.
"I definitely have too much energy, so I'm constantly running around," said Sheridan.
"We practice skills and we try to play games but we aren't the greatest, so that's always challenging."
Senior Chris Allen agrees with Sheridan about not being the best volleyball players.
"We are all terrible so it's okay that we mess up," said Allen. "The volleyball coaches have been helping us out with bumping and setting."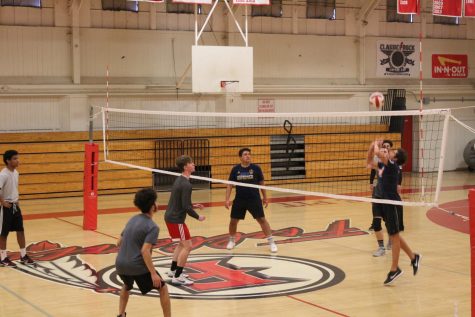 Going into the game, most of the boys signed up to have fun, but not senior "Balls of Fury" player Taylor Garcia. Garcia is eager to compete against "The Losers."
"I really want to beat the other senior team because they really stacked all the good players into one group," said Garcia. "My team has my water polo friends on there so it will be fun trying to beat all the football guys."
There can always be a little sibling rivalry as well. Junior Boaz Yousling is excited to be playing against his older brother, senior Christian Yousling.
"Although I just want to have fun with my friends, going against my older brother will be challenging," Boaz said.
Sheridan is looking forward to playing against the senior teams, just like Boaz.
"Of course I was scared of the seniors," said Sheridan. "Then I went to practice and realized that they aren't the best volleyball players either."
Boaz believes that the most difficult thing about volleyball is communicating with his teammates.
"Communication is everything because you have to be in sync with your teammates or else you pretty much lose the ball."
Come watch the the upperclassmen boys compete in the Powder Buff tournament tonight at 5 p.m. in the gym. Remember to bring five cans of food for free entry or pay a $5 admission at the door.