Geography teacher wins award
Hollon promotes school spirit, connects with students
Do you know what influenced Fullerton Union High School's architecture? Do you know what inspired the school's colors? The school mascot?
The answer to all these questions is Stanford University.
And it's not surprising that social science teacher Sharon Hollon shared all these fun facts about our red and white sister school on Sept. 20 during the video announcements.
Psychology teacher Nicole Smith said it was a perfect choice to have Hollon be the first History Fact of the Week presenter.
"When Mrs. Hollon gets excited about something, she's all in. She's excited about Fullerton High School, and you can see that in her school spirit," Smith said. "It's not a coincidence that she was the first teacher that signed up to do a History Fact of the Week. She's just very excited about and dedicated to Fullerton High School."
It's no secret that Hollon is a champion of Tribe Pride and an inspiring teacher.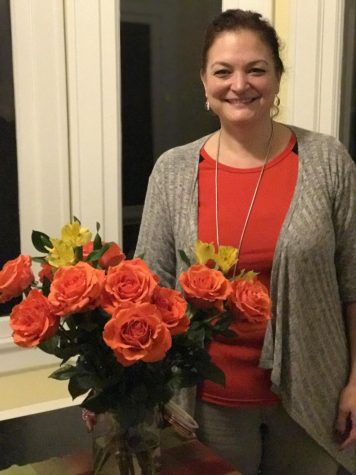 In fact, Hollon recently earned the title of American Geographical Society Geography Teacher Fellow for her exceptional teaching abilities. Teachers who applied for this award submitted lesson plans and other information that gave the decision makers insight into how their classroom was run.
"It's a huge honor," Hollon said. "There are only 50 teachers selected out of all of the high school teachers across America each year, and I got accepted the first time I applied."
As the winner, Hollon is able to learn and then provide more resources to her students by attending the AGS Fall Symposium at Columbia University. 
"One of the things I'm looking forward to at the conference is learning how to do open- street mapping, and being able to come back and teach that to my students, so that we can do some geographic activities based on cartography and street mapping," said Hollon, who will travel to New York in November for the conference. 
In her AP Human Geography class, students learn geographical concepts that they use to study historical trends and real-life situations. 
Senior Tyrell Mendez participated in a project that used different projections of mapping to see the biases that each one holds. For example, some map projections distort the picture of Earth so one continent looks bigger than another when, in reality, they are the same size. 
"It was interesting learning about this because these distorted maps are everywhere, even in textbooks," Mendez said. "Seeing the different perceptions in real life was really interesting."
Hollon inspires her students through everyday lectures. Senior Hana Kim had Hollon for both AP Human Geography and IB Anthropology.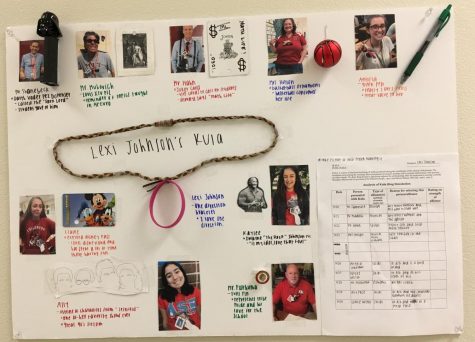 "She had a way of making her lectures interesting and her teaching style is very interesting as well. It captivated me," Kim said.
Hollon often shows Photos of the Week from CNN in her AP Geography class. She builds enthusiasm for history and current events, and she takes the same approach when it comes to school spirit.
Hollon hopes to instill a love for the school in her students because she has a deep connection with Fullerton High. There was even a time when her whole family attended or worked on campus.
"There was one year when my son was a senior, my other son was a freshman, my husband was teaching here, and I was here," Hollon said. "It just felt like Fullerton really was home. I always feel like that anyway, but it practically was [home] because we were all here all the time."
Even though her children no longer attend Fullerton, Hollon has a nurturing influence on all of her students. Through her involvement in athletic programs and clubs, Hollon has built close relationships with her students.
"I can look over them like a mother hen, so it helps me connect with them separately from being an instructor when I'm in charge of 30 kids at once," Hollon said. "I can get to know them, their likes and dislikes, and chatting with friends. It's very revealing."
Mendez appreciates the motherly influence Hollon shares with her students.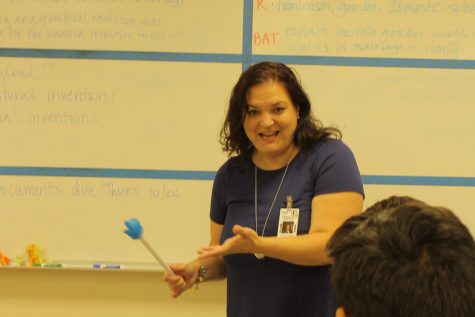 "Another thing I really like about her is that you can tell she cares about her students," Mendez said. "She has food in the back if they're hungry, sweaters if they get cold, and she's always there for them."
Through her passion for teaching and Tribe Pride, Hollon inspires students every day.
"One thing that I wish we had more of at Fullerton High School is school spirit and I think that I could model that for them to show how much fun it is. You know that these are the times that you don't get back," Hollon said. "You really only have four years of high school and four years of college, so this is the school that will always be your home. You're an alumnus of Fullerton, so you gotta get that school spirit and capture it."