School policy protects students from going hungry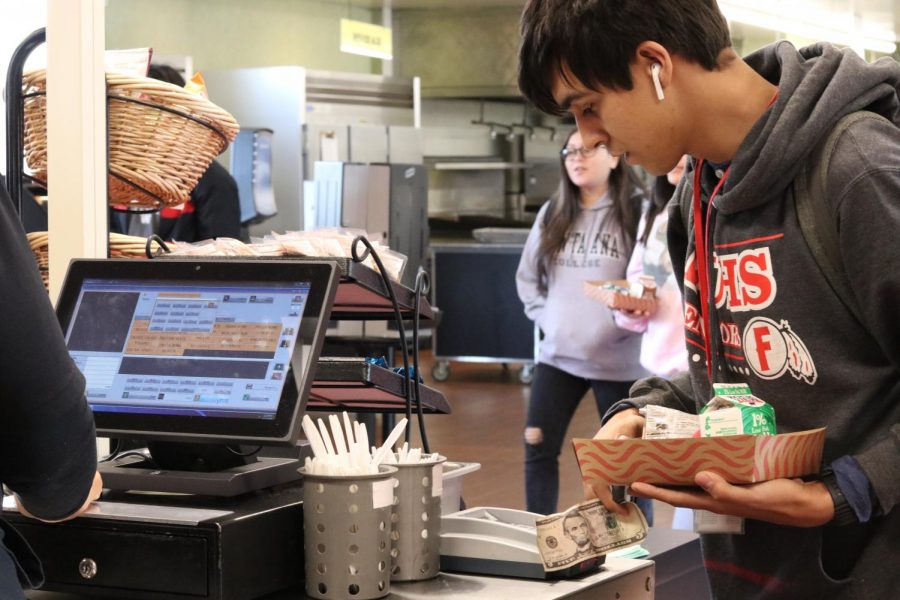 After waiting in a long cafeteria line, junior Encar Cruz grabbed his meal. Thinking he had money in his account, he punched in his ID number. But Cruz had to give back the pizza, apple and milk because he didn't have enough funds.
"It was just whatever, but at the same time I was kind of like 'why?' It's only $3.75," Cruz said. 
Cruz does not meet the Federal Income Eligibility Guidelines, meaning that he does not qualify for free and reduced lunch. For him, and students like him, every meal costs $3.75.
Parents can add funds and check their child's balance at fjuhsdfoodservices.org. However, when students don't have the funds in their account, their meal is confiscated. But the good news is that students like Cruz do not have to go hungry. According to district food services official Asma Chaudry, students should never be denied a meal.
Chaudry says that students who cannot pay upfront can still get their lunch and be mailed a bill later.
Fullerton High School officials certainly don't want students to skip lunch, but they also don't want to be stuck with a large unpaid food balance at the end of the year. 
As a compromise, principal Laura Rubio says students without funds in their account can go to the front office, specifically assistant principal Marcene Guerro, for help. The school will try to cover the cost or provide other resources to the students in need. 
"It's hard to know who really needs lunch because a lot of students go off campus, but students in need of lunch can come up to the office for assistance," Rubio said.
Students who qualify for free lunch don't pay much attention to the $3.75 price tag, but students who pay for food on campus question if they're getting the best value.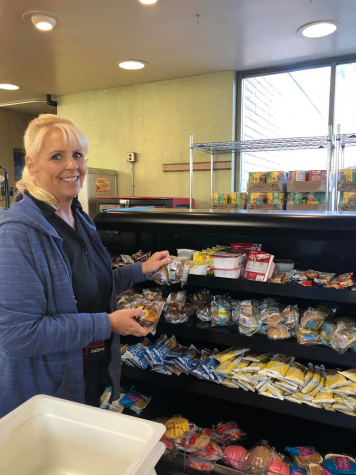 Instead of staying on campus at lunch, senior Bryan Nguyen spends $30-40 a week on local fast food.
"The cafeteria food line is way too long for small portions of mediocre food while there's quicker and better tasting options," Nguyen said.
Junior Addison Merritt brings her own lunch each day. She says she wishes the school offered more non-dairy choices.
 "Sometimes I don't have any options because I don't eat beef and I'm lactose intolerant," Merritt said.
Sophomore Cherish Angus is a pescatarian (avoids meat but will eat fish). Trying to eat food from the cafeteria is inconvenient when her only choice is cheese pizza. She says that it's hard to follow her diet because our culture does not support her choices.
Campus supervisor Frank Ramirez tries his best to keep order in the cafeteria at lunch, but he says crowd control could be improved. "Maybe add some sort of a zig zag railing to organize the line because a lot of students cut which makes the good kids wait longer to get their lunch," Ramirez said.
Rubio says that the lunch lines do die down the last ten minutes of lunch, so there is not a big demand for railings. However, if the school officials see it as a necessity in the future, they are willing to invest in them. 
Despite the typical teen complaints about lunch, the FUHS cafeteria has a few good qualities.
According to Marilyn Radcliffer, who has worked in the FUHS cafeteria for 15 years, the cafeteria has many more food options compared to three years ago. 
"We have the best options in the district," Radcliffer said. This year, the school installed a new salad bar. It is a buffet style table serving chicken caesar salad with students to assemble their own toppings. Although Sonora's cafeteria offers a salad bar, it's not stocked year-round. Students also can consistently cut their own fruit with the cafeteria's fruit slicer.
The new Sharing Station is a food organizer that allows students to leave items they're not going to eat. Other students can pick up an extra apple or other item, thus reducing the amount of food that goes to waste.
Junior Carina Alonso frequently uses the Sharing Station to get carrots and apples.
"I like that I don't have to get a full lunch to get a snack," Alonso said. "It's also nice because people who can't get lunch can get carrots or other snacks for free."