March Briefly
Coronavirus outbreak disrupts student life
On March 11, the FJUHSD office sent out an email notifying students and parents that an FUHS student may have been exposed to Coronavirus and, therefore, is on self-quarantine.
As for now, no drastic measures will be taken by the district, but officials are working carefully with local and federal government agencies to monitor the situation and make sure students stay healthy.
This week, teachers are scheduled to learn about Distance Learning in preparation for a possible school closure if any students test positive for Coronavirus. However, this is precautionary and there are no immediate plans to close FUHS.
Although the school will remain open for now, the outbreak of Coronavirus has caused changes to many school events.
Due to a state mandate issued by Governor Gavin Newsom on March 12, all field trips, competitions, performances and meetings that would have been attended by more than 250 people will be canceled or postponed.
Coronavirus isn't just affecting schools. It has affected students' personal lives as well.
Senior Gillian Hodgden was planning to work at Brandy Melville over the weekend and spring break in order to save money for college, but her employers contacted her and told her that the store would be closed for the next two weeks. In addition, there was no estimate or promise of a return date.
Many religious congregations have suspended meetings or made preparations to conduct mass online. Restaurants and stores around the county have posted limited opening hours and new public health measures. Even Disneyland announced that it would be closed through the end of March.
Since Coronavirus brings many unknowns and no promises for the future, it has created a nationwide panic. People have entered into a frenzy of preparation and fear.
Still, the best thing to do is stay calm and proceed as normally as possible while taking all necessary precautions to keep yourself and others healthy.
For more information, review the official FJUHSD guidelines.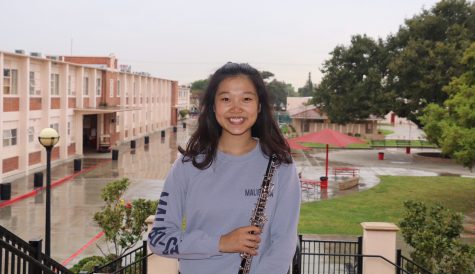 Liu earns first chair at All-State Symphony
Junior Esther Liu played the oboe in the California All-State Music Education Conference (CASMEC) from Feb. 20-23. Liu won first chair in the ensemble.
Eligible students sent in a video audition to the CASMEC judges, who later notified them by email if they were accepted into the conference.
At the conference, the symphony orchestra performed "Pacific Celebration Overture" by Peter Boyer and "Wine Dark Sea" by John Mackey.
Liu said that her favorite piece was "Wine Dark Sea" because of the meaning and depth behind the music, and the fact that it was meant to depict the heroic story of Odysseus.
Liu said that although all three movements were expressive, the second movement evoked the most emotion. It is meant to depict Odysseus's decision to leave Calypso and return to his family.
"That section showcases her heartbreak over his inconsiderate actions," Liu said. "He leaves her after nine years of love. It brought tears to the eyes of many of us in the ensemble and was very heart wrenching."
Though emotional, the piece ends on a positive note.
"The piece ends with an expression of a revival of [Odysseus'] strength at the end of his life," Liu said.
FUHS teams compete in February competitions
FUHS performing arts teams placed in their February competitions.
The Song team competed in the Showstoppers Dance Competition on Feb. 14-16.
Though this is only its second competition of the year, the team placed first in its category and tenth overall.
The Color Guard team placed 6th in its competition at La Serna High School on Feb. 29. It was a rainy afternoon, but the team persevered and finished their performance of "Lost in Space."
Speech and Debate qualifies 30 students to state championships
The FUHS Speech and Debate team qualified 30 students to the California state championships at the qualifier tournament over the weekend. For the first time in FUHS history, every single team member advanced to a semifinal or final round. 10 students also won their respective events, making them the Orange County Champions.
Unfortunately, the California High School Speech Association officially canceled its 63rd annual state championship tournament March 11.
Journalism students win at Orange County competition
Congratulations to yearbook student Alia Noll who finished fourth in feature writing at the Orange County Journalism Education Association's on-the-spot competition on Feb. 22. Tribe Tribune editor Gillian Hodgden finished 6th in feature writing. Alexandra Williams finished 8th in sports writing. Arashk Alivandi took 10th place in news photography. All four students qualified to compete in the state journalism competition on March 14, but the event has been canceled.
Stevens wins Mr. Fullerton title
A group of senior boys competed in the annual Mr. Fullerton pageant on Feb. 28. Senior Dylan Stevens won the overall competition.