New teachers join the Tribe
Click on any of the photos below to learn more about the new staff.
Jason Bradbury
Jason Bradbury has been teaching for 17 years and has been the head wrestling coach here for the past three years. He taught algebra at Troy High School before making the full switch to FUHS. "I'm excited to be here, working and getting to know other students here on campus."
"This is the school our children will eventually come to, [which] is an awesome experience," Bradbury said. His wife, Karen Bradbury, is one of the dance teachers here. Bradbury enjoys family time with his wife and one year old son outside of school.
Bradbury has been wrestling since second grade and continues to follow his wrestling passion by coaching. He originally coached at Diamond Ranch High School but his drive led him back to wrestling here at FUHS.
"The senior and junior class that I have wrestling for me [is] transforming this program into a real contender," Bradbury said. "I'm looking forward to the best season we've had in forty years; it's pretty exciting." Bradbury wants to transform this program; FUHS wrestlers haven't won a league title in forty years.
Bradbury said he has finally found his home school. "To be where you know where you will spend the rest of your career is an amazing thought. I bleed red and white. This is where I am supposed to be at."
Jessica Buckle
Fullerton has welcomed new history teacher Jessica Buckle to the 2016-2017 school year.
"Fullerton is a really great school. There's a large history behind this school, which is amazing," said Buckle, who teaches government and world history. "I'm definitely excited to be part of the Tribe."
Buckle replaced a substitute two weeks after the year began, bringing with her a passion to the classroom.
"When I was in high school, I hated history. All we ever did was memorize names and dates and forget them right after the test," Buckle said. "It wasn't until college that I started to get passionate because it was those stories that made it come alive, made it interesting."
Her approach to teaching is an interactive one that includes technology, making it more relevant to students. "I'm trying to make this subject come alive. Hopefully they'll find it as fun and interesting as I do."
Buckle said teachers were always the people that were there for her, so she wants to do the same. "When they feel like I care, when they feel like there's trust, they can come to me about things. When there's trust, there's respect." She enjoys supporting students both in and out of the classroom by attending athletic events and competitions.
Kristine Chung
Kristine Chung, who teaches English Honors, college prep, and an advanced reading class has been a teacher for nine years. She attended Cal State Fullerton with full intentions to become an English teacher.
"I went into college and came out of college knowing I was going to teach and started teaching right away."
Chung did not grow up with the best home life, but her English teachers supported her. "They helped me keep a good head on my shoulders," she said. Because of them, she knew she wanted to teach. "I wanted to give back."
Although Chung is still one of the younger teachers, she is passionate about her career and goes to great lengths for it. She was recently hired as a fitness instructor, but turned it down to teach.
For anyone, even a teacher, coming to a new school can be hard. "It takes time to adjust," Chung said. "But the kids are sweet, the staff is supportive. It's a beautiful campus."
Like any English teacher, she makes sure her students are reading books; however, she makes sure they enjoy them. "To see [students] light up because they're reading, or to get them to see their life in a different perspective because they've read a book, that's what English should be about."
Her favorite thing about being a teacher is that she can help make a difference in this world, maybe without even realizing it at the time.
"You think you're helping everyone, but once in awhile, you get kids that come and say 'Thank you'," Chung said about students who come back after years. "That shows that the effort I put in day in and day out is helping somebody. To know that I'm helping, they might not show it that day or that year, but to know that I'm making a difference in someone's life, is why I teach."
Chung became a teacher because she wanted to shape the world, not because she had to.
"I don't drink caffeine, I don't know how I get up at four in the morning, or how I'm able to stay until six. Maybe it's an intrinsic motivation," Chung said. "I know I'm doing it for the students. Whatever I can do to ensure that the next generation is going to be just a little bit better, I'll do it."
Pat Hsieh

Susan Lozeau
Spanish 1, 2 and world history teacher Susan Lozeau went to UCSC (University of California Santa Cruz).
Previously working at Troy High School, Lozeau is very happy to be starting a new chapter here at FUHS. "I'm really happy I'm here! I love this school, I love the architecture, I love the kids and I love the diversity," Lozeau said.
Outside of the classroom, Lozeau enjoys traveling and has been to many exotic and alluring places in and out of the country. "I love England, [but] my favorite place I've ever gone is Costa Rica. I have yet to get to Alaska, which I want to do and I love all of California — it's so beautiful. Especially once you get out of LA and start going north," Lozeau said.
She has many other hobbies such as sewing and costuming, riding her bike with her husband, cooking and interior decorating.
The kids are a number-one priority for her. Lozeau has several goals when it comes to being a good teacher to her students. "Getting to know them better, really developing long lasting relationships with them and hopefully get them speaking Spanish by the end of the year," Lozeau said. 
Abimael Mendoza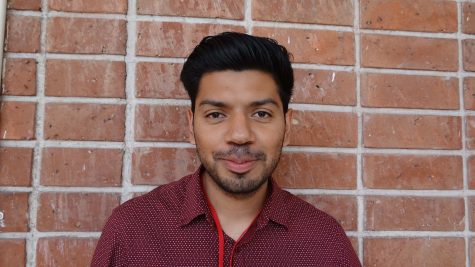 Maseleno Pese