The History Tree
Every year around the holidays, history teacher Mike Muhovich puts up a plain Christmas tree and allows his AP European history students to create history-themed ornaments to decorate it. The "History Tree," as Muhovich has coined it, not only reflects the holiday spirit, but also serves as an extra credit opportunity.
"'The History Tree' started five or six years ago, when one of the sports teams on campus was selling trees as part of a fundraiser," Muhovich said. "The class raised money and I pitched in the rest and thought it would be a fun extra credit assignment- a winter celebration of history!"
Muhovich continues the tree-decorating tradition due to students' high demand and because he has fun with it himself.
"I enjoy the creativity students come up with in the celebration of history," Muhovich said.  
While students' ornaments range from creative to just straight up "punny,", all of them connect back to European history.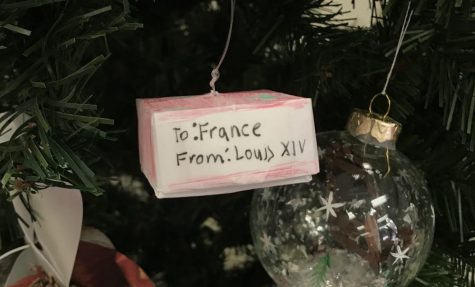 Sophomore Joshua Park created a Louis XIV (French King) inspired ornament, which included video games inspired by wars of Louis XIV.
"I made two origami boxes, put them together and created a present box, " Park said. "Then on the side of it I put 'from: Louis XIV, to: Europe,' and inside of it I got these little figures—for example, a video game and XBOX—and I put 'War of Devolution' on it, because that's a thing that he did."
Sophomore Annalise Finegan made a Marie Antoinette inspired ornament, based off of her fascination with this 1700s French queen.
"I made a snow globe ornament of Marie Antoinette and the French Revolution," Finegan said. "I took a doll and decapitated it. In the back [of the snow globe], I put 'Let them eat cake,' and I had a little clay cake, and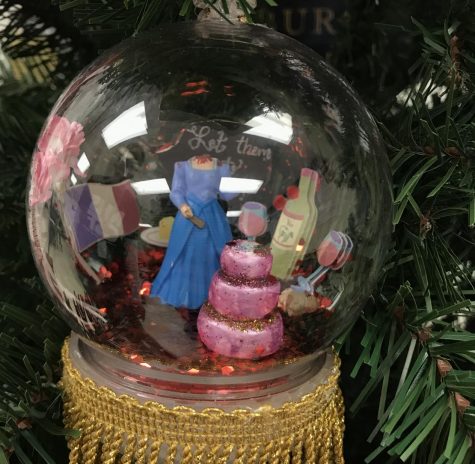 the French flag."
Students are able to take their favorite lessons from AP European History and create them into fun ornaments for other students to look at.
"We were going to be learning about the French Revolution, and I like to do a lot of research on [Marie Antoinette], Joan of Arc, and tragic characters," Finegan said, "I don't know why, but I really love history."
Students work really hard on the ornaments that go on the tree, so if you get the chance, stop by room 151 to see all of the awesome ornaments on The History Tree!